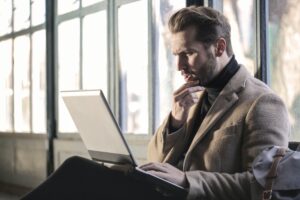 We understand the financial pain so many Americans are going through as a result of the devastating COVID-19 pandemic. Despite a sizable minority of workers losing their incomes due to the pandemic, only piecemeal relief programs have been instituted. 
Those who still have their jobs may have seen their hours reduced. However, with bills still to be paid, some of these part-time workers have been tempted to apply for payday loans to temporarily stay afloat. Using these types of short-term, high-interest loans is seldom a good idea, but Americans do have the freedom to transact with payday lenders and, for some, financing options are quite limited. A growing segment of this industry is online payday lending services, which are generally more convenient for consumers.
Unfortunately, supposed online payday loan applications are rife with scammers. Nearly every payday loan application requests personal information from the applicant and many ask for online banking credentials. Even if you do not click "submit" on your application after filling it out, your information could still be stolen by a bad actor. 
Selling Your Information
Other times, the alleged payday lender might sell your information to third parties who masquerade as debt collectors. There is no shortage of tactics that these unscrupulous individuals may use. A common thread among such predators is an aggressive, threatening tone used when speaking to potential victims. The callers will often pose as agents of the law, such as police officers, judges, or employees of government agencies (e.g., the Department of Justice). What's more, these supposed debt collectors typically do not abide by the Fair Debt Collection Practices Act and other laws intended to protect debtors. 
One reason why it's easy for these scammers to prey on payday borrowers is because of the latter's dire financial straits. Someone who is willing to take out a payday loan is often desperate and wanting to deal with their financial woes as quickly as possible. This confluence of factors (a perfect storm) also leads scammers to overwhelm payday loan applicants with an avalanche of vague fine print. They don't count on applicants reading every line of the fine print, which makes it a good place to hide unethical and illegal terms. 
What Can You Do?
Before you submit an application for an online payday loan, take some time to read over the terms of the loan. Trust your intuition if something truly doesn't seem right. Search for the company online to see if there are prior complaints or, conversely, a good Better Business Bureau rating. Have a copy of the loan's terms so you can recognize when the lender tries to add fees or change conditions after you have signed. However, there is always a risk in 1) putting personal information online, and 2) taking out a payday loan. 
What to Do If You Have Already Been Scammed?
First, try your best to not let the sting of getting scammed affect your emotions and mental health. Falling victim to unsavory low-lives is NOT your fault.
As soon as you are able, report the company to the Consumer Financial Protection Bureau. If you feel comfortable rejecting calls from unknown numbers, you should do so. And, lastly, consider letting Bell Law know about your experience. We are committed to evaluating potential consumer cases and protecting ordinary individuals. Please consider a free consultation with our legal team.